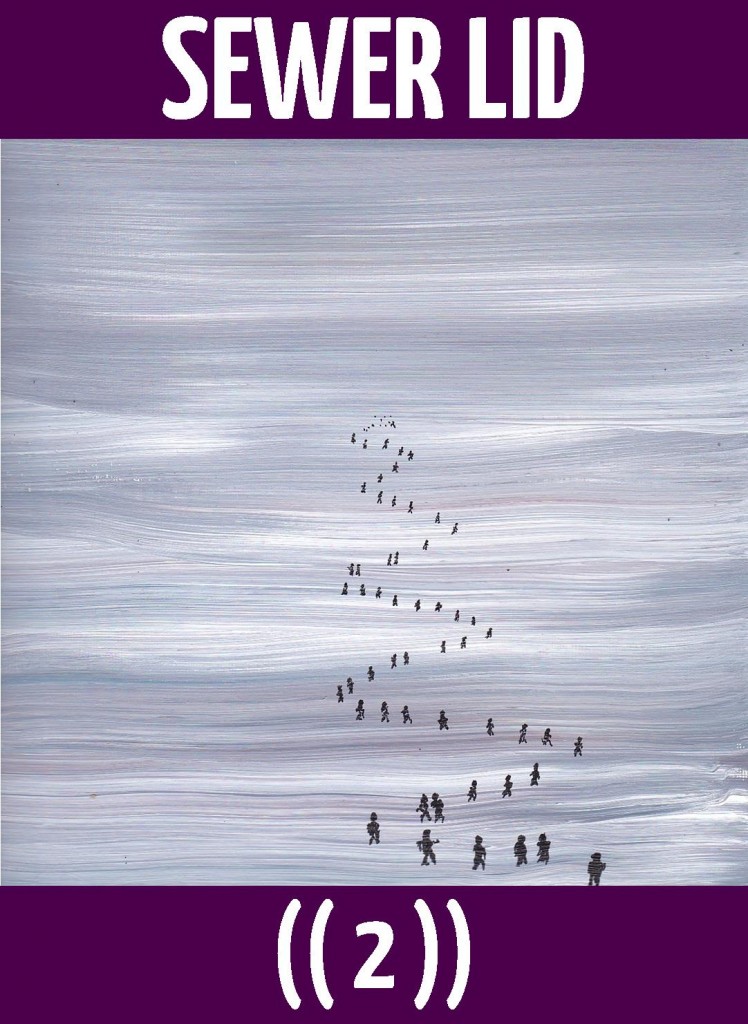 ISSN 2371-1361                                                             ("No Evident Horizon" by W. Jack Savage)
Contents
Editorial
NIKOLINA LIKAREVIC  //  Living in the Threshold and Caring for Others (in "Unsexy Ways")
Fiction
BENJAMIN C. DUGDALE  //  halifux
CLIVE GRESSWELL  //  Dinktown
RONY NAIR  //  Nocturnes
Non-Fiction
ERIN DELLA MATTIA  //  "An ordinary kind of wonderful" — A Review of Jacob M. Appel's Einstein's Beach House
JACK HOSTRAWSER  //  There Is No Plan A: Jaymz Bee and the Art of Making It
Poetry
AIDAN CHAFE  //  Two Poems
________ _ __ _/  Jesus Lizard
___________  _ /  Two Lips 
BOONA DAROOM  //  Good Listening Hygiene
WILLIAM DORESKI  //  Three Poems
___________ ______/  One Anodized Moment
___________ ______/  Black and White Stripes
____________ _____/  November Song

BEN GALLAGHER  //  Two Poems
________ _ __ ____/  The limits of power
___________  _ ___/  Together after the snowstorm 
JOHN GREY  //  Waking Up in Jersey
JUSTIN LAUZON  //  The Sailor of Marseille
mwpm  //  breathing habits
SALMA SAADI  //  Notes to my working life
KRISTEN SMITH  //  Two Poems
________ _ __ ___/  A440
___________  _ __/  fire of conflict 
Portfolio
W. JACK SAVAGE  //  The Life We Live
Contributors' Notes
Aidan Chafe is the author of the chapbook Sharpest Tooth (Anstruther Press). His poetry has appeared in journals such as Contemporary Verse 2, Cordite Poetry Review, The Paragon Journal, Scrivener Creative Review, and Sulphur. He lives in Burnaby, BC.
Boona Daroom's work has appeared in LIT, the Nashville Review, and SOFTBLOW, among other places. He lives in Brooklyn.
Erin Della Mattia is a writer, researcher, and almost-graduate of Ryerson University's Literatures of Modernity MA program. Her work has appeared on Rookie Mag and The Word on the Street Blog, among other places, and her creative essay "Zine Culture and the Embodied Community of Rookie Mag" was published as part of Ryerson's Stories in Play Initiative earlier this year.
William Doreski recently retired after years of teaching at Keene State College in New Hampshire (USA). His most recent book of poetry is The Suburbs of Atlantis (2013). He has published three critical studies, including Robert Lowell's Shifting Colors. His essays, poetry, fiction, and reviews have appeared in many journals. You can follow him on Twitter @wdoreski and find more of his work on his blog, williamdoreski.blogspot.com.
Benjamin C. Dugdale is a 20-something poet-person/experimental-filmmaker living in Atlantic Canada. Benjamin's writing has been featured in or is forthcoming in various publications including CRITpaper, filling Station, FreeFall, Numero Cinq, The Steel Chisel and Sulphur. Some of Benjamin's film work can be found online at Prick Of The Spindle, and his photography will appear in the forthcoming issues of Sad Dog Zine & Viator. Benjamin's most recent prize is the 1st place entry in the 2016 Geist Short Long-Distance Writing Contest, for the short story, "Pekoe." You can learn more on his Facebook page, https://www.facebook.com/bnnyby/.
Ben Gallagher is a Toronto-based poet and essayist. He has worked as a landscaper, wedding caterer, sailing instructor, and art teacher, among other odd jobs. He is about to begin a PhD at OISE, researching arts education and mental health. Recent writing can be found online at , Lion's Roar, (Parenthetical), and The Puritan, and new poems and essays are forthcoming with Arc and Prairie Fire.
Clive Gresswell is an innovative fiction author and poet working out of Luton in Bedfordshire, UK. At the tender age of his mid-50s, he rediscovered his passion for writing and studying at the university in his home town. He does not keep snails.
John Grey is an Australian poet, US resident. Recently published in New Plains Review, Perceptions and Sanskrit, with work upcoming in Big Muddy Review, Coal City Review, the Coe Review, and Gargoyle.
Jack Hostrawser is a recipient of the York University President's Prize and once chased tornadoes across the Midwest. His writing has appeared in Existere, The Fieldstone Review, In The Hills Magazine, The Quilliad and Steel Bananas.
Justin Lauzon is a writer based in Toronto. He works to promote Canadian literature and literacy through The Word On The Street, Hear Here, and Lexical.ca.
Nikolina Likarevic is a graduate of the MA Literatures of Modernity program at Ryerson University. She is the Associate Editor of Sewer Lid, a magazine of urban art and literature. Currently, she is completing a Master of Information in Library and Information Science at the University of Toronto.
mwpm lives and writes in Waterloo, Ontario. His writing has appeared (or is forthcoming) in The 22 Magazine, Blueprint Magazine, filling Station, MUSH/MUM, Otoliths, (parenthetical), Sonic Boom, and untethered.
Rony Nair works as an oil and gas Risk Management Consultant. Rony's been writing poetry since 1985 and was a published columnist with the Indian Express in the early 1990's. He is also a professional photographer about to hold his first major exhibition and has previously been published by The Cadet, The Economic Times, New Asian Writing (NAW), Semaphore and YES! Magazine. Rony has been profiled by The Economic Times of Delhi. Philip Larkin's' collected poems would be the one book he would like to die with. When the poems perish, as do the thoughts! You can follow him on Twitter @ronynair.
Salma Saadi is a Canadian social worker and writer. She is passionate about immigrant and refugee rights and telling stories about oppression, strength and resilience. She has completed a three month writing residency at Artscape Gibraltor Point on the Toronto Islands and has spent three months writing in Berlin at the artist residency Takt Kunstprojektraum. She is currently working on her first novel.
W. Jack Savage is a retired broadcaster and educator. He is the author of seven books including Imagination: The Art of W. Jack Savage. To date, more than fifty of Jack's short stories and over eight-hundred of his paintings and drawings have been published worldwide. Jack and his wife Kathy live in Monrovia, California. You can learn more about his work at his website, wjacksavage.com.
Kristen Smith received a Bachelors of Arts in English at Mount Allison University and a Masters from Ryerson University. Her collection of poetry, Voices, was awarded the Graham Atlantic Writing Prize. Kristen participated in the Fairbanks Summer Arts Festival in Fairbanks, Alaska. Also, she was selected as one of six poets internationally to participate in the Writing With Style program at the Banff Centre (Banff, AB). In both her creative and academic writing, Kristen explores themes of absence, belonging, community, and music. She is currently pursuing doctoral studies at York University. You can discover more about her work on her website, kristenasmith.com.