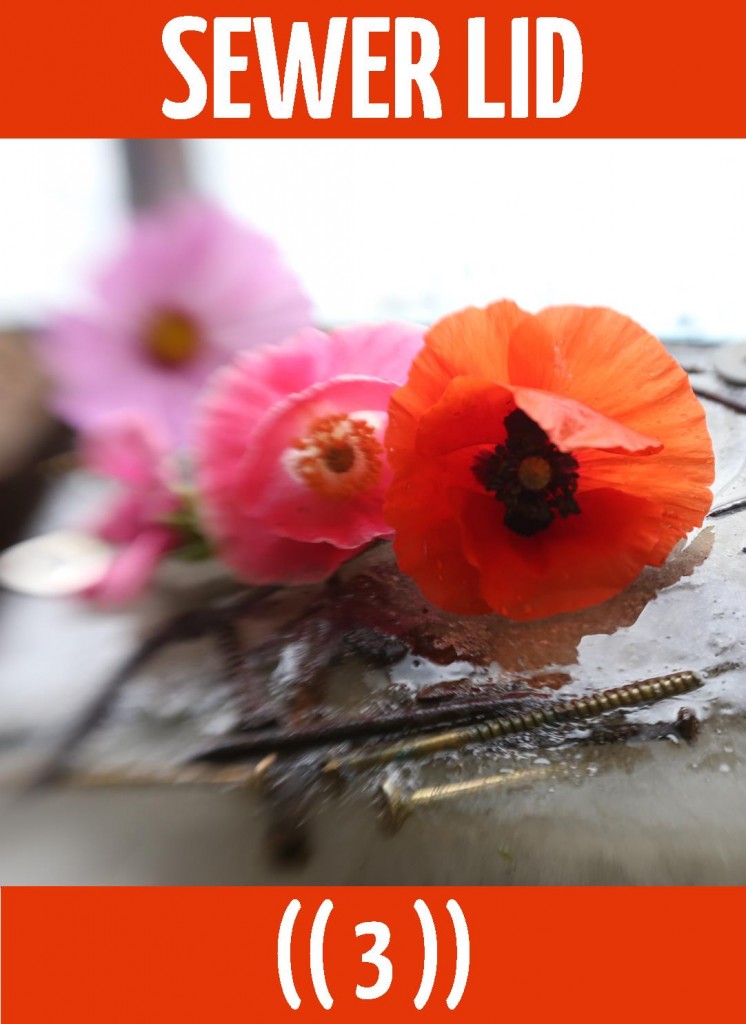 ISSN 2371-1361                                                                             ("Collision" by Fabrice Poussin)
Contents
Editorial
ERIN DELLA MATTIA   //   Let Me Tell You About My Fears
Fiction
JONAH BRUNET  //  Venus's Furs
JOSH STENBERG  //  Valley
STEVEN SUNTRES  //  Afterparty Going
Non-Fiction
RACHEL LAVERDIERE  //  Pinholes of Light
Poetry
NED BAECK  //  Report from the Ether
CAIRA CLARK  //  Two Poems
_____________/  Better than that ORACLE
_____________/  Spreadsheet Blues
SUZANNA DEREWICZ  //  Jokeville
A.J. HUFFMAN  //  Three Poems
_____________/  Of Pole Dancers and Dark Desires
_____________/  Of Screeching
_____________/  Watching the Rain
DAVID MORGAN O'CONNOR  //  Kiss Night Club Fire
SEAN STEELE  //  Two Poems
_____________/  a cup on its side at the edge of a lake in Germany in the late evening one _____________ _summer as the sun begins to sink below the line of trees to the West and you ____________ __are sitting on a park bench watching people feed geese and you are alone and ___________ ___feel good
_____________/  There must be a basement
Portfolio
FABRICE POUSSIN  //  By Her Window
Contributors' Notes
NED BAECK lives in Vancouver. His poems have previously appeared in The Continuist and untethered. His first full-length collection of poems is forthcoming from Guernica.
JONAH BRUNET is a freelance and creative writer from Ottawa living in downtown Toronto. His fiction has appeared in Carleton University's In/Words Magazine, NYU's Minetta Review, and is forthcoming in the University of Houston's Glass Mountain Magazine. He's very happy to be here. You can follow him on Twitter @jonahbrunet.
CAIRA CLARK grew up in New Brunswick but now calls Nova Scotia home. Her poetry has been shortlisted in contests for Fog Lit and untethered. Currently, she is an apprentice in the Writers' Federation of Nova Scotia Alistair McLeod Mentorship Program. Find her online on Twitter @CairaMhairi or at www.cairaclark.com.
ERIN DELLA MATTIA is a writer, researcher, and the Managing Editor of Sewer Lid. This fall she begins her doctoral studies with the Department of English at the University of Toronto.
SUZANNA DEREWICZ is a writer based in Toronto, Canada. She has recently been published on Metatron's OMEGA blog, in the Minola Review, (parenthetical), and Peach Mag, among others. Her debut chapbook, Maggie Monologues, was released in Fall 2016 by words(on)pages press. Follow her on Twitter @suzannaderewicz.
A.J. HUFFMAN has published thirteen full-length poetry collections, thirteen solo poetry chapbooks, and one joint poetry chapbook through various small presses. Her most recent releases, The Pyre On Which Tomorrow Burns (Scars Publications), Degeneration (Pink Girl Ink), A Bizarre Burning of Bees (Transcendent Zero Press), and Familiar Illusions (Flutter Press) are now available from their respective publishers. She is a five-time Pushcart Prize nominee, a two-time Best of Net nominee, and has published over 2,600 poems in various national and international journals, including: Bone Orchard, The Bookends Review, Corvus Review, EgoPHobia, The James Dickey Review, Kritya, and Labletter.
RACHEL LAVERDIERE writes and teaches in Saskatoon. Her prose and poetry has been published or is forthcoming in various North American literary journals, including Dime Show Review, FreeFall, Gravel, and The Oleander Review. Follow Rachel on Twitter @r_laverdiere or learn more at www.rachellaverdiere.com.
DAVID MORGAN O'CONNOR is from a small village on Lake Huron. After many nomadic years, he is currently based in Albuquerque, where a short story collection progresses. He contributes monthly to New Pages and The Review Review. His writing has appeared in Across the Margin, After the Pause, Barcelona Metropolitan, Beechwood Review, Bohemia, Cecile's Writers' Magazine, Collective Exile, Fiction Magazine, The Great American Lit Mag (Pushcart nomination), The Guardian, Headland, and The New Quarterly. You can find out more on Twitter @dmoconnorwrites and on his website davidmorganoconnor.com.
SEAN STEELE: Born in Vancouver, raised on Vancouver Island (Nanaimo). 31 years old. Poet, novelist, musician (records as Mareotis), painter, traveller. Part-time academic, full-time dreamer. PhD student in Humanities at York University. Has an MA in Humanities, a BA in Philosophy and History from Concordia in Montreal, and a music diploma from Vancouver Island University. Currently lives in Toronto. Committed to love, curiosity, and creativity. The eternal optimist. Enjoys the game of living. Celebrates daily. Grateful, alive, and seeking.
JOSH STENBERG is a Vancouver-born writer, translator and academic. He teaches Chinese literature and language at the University of Sydney and has worked with Chinese theatres, filmmakers, journals and literary events on international projects.
STEVEN SUNTRES is a recent graduate of UNB's MA in Creative Writing program where he wrote Rave Jesus, a novel exploring tensions between cultural authenticity and commercialization in Toronto's rave scene. "Afterparty Going," an excerpt from Rave Jesus, is his first fiction publication. In the fall, he will be a student in Carleton University's PhD in Cultural Mediations program. Find him on Twitter @ssuntres.