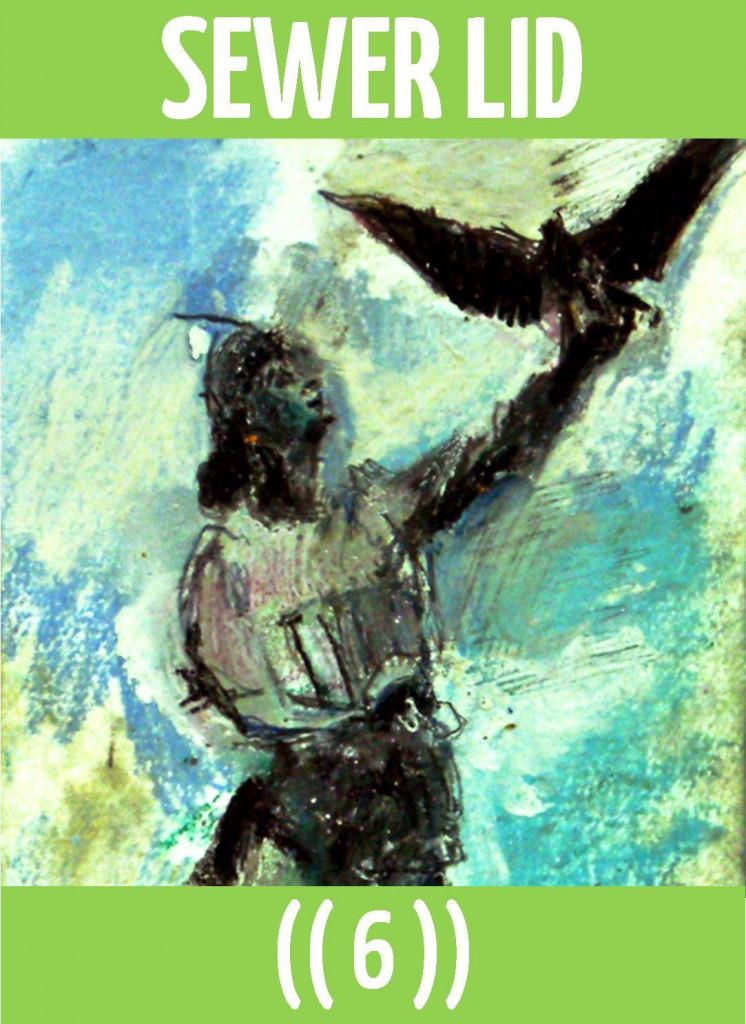 ("Falconner" by Howard Skrill)
Contents
Editorial
NIKOLINA LIKAREVIC   //    Poetry: Fact and Fiction
Poetry
RAZIELLE AIGEN   //   Three Poems
________________/   It's Complicated
________________/   Making A Sandwich Underwater
________________/   See Through
JOHN GREY   //   Two Poems
____________ /   Angel
____________ /   Aphorisms
D.S. MAOLALAI   //   Two Poems
_______________/   My natural charm
_______________/   St Patrick's Day weekend
WILDA MORRIS   //   At Printers Row Lit Fest, Chicago
MARGARITA SERAFIMOVA  //   Two Poems
________________________/  Sofia in 1994
________________________/   Untitled
SEAN STEELE  //   Two Poems
____________   /   Index
______________/   Singing Naked Under The Full Moon
Portfolio
HOWARD SKRILL   //   Bonfire of the Vanities from the Anna Pierrepont Series
Contributors' Notes
RAZIELLE AIGEN is a Montreal-born writer and artist with a B.A. in History and Contemporary Studies from Dalhousie/King's University in Halifax, and is an alumna of The Writer's Studio at Simon Fraser University. Her poems appear in various publications, including Five:2:One, Synapse, and California Quarterly. You can find out more on her website razielleaigen.com and follow her on Twitter @ohthepoetry.
JOHN GREY is an Australian poet, US resident. He has recently published in Midwest Quarterly, Poetry East, and North Dakota Quarterly, with work upcoming in South Florida Poetry Journal, Hawaii Review, and the Dunes Review.
NIKOLINA LIKAREVIC is the CEO of a rural library in Ontario. She has two masters, one in modern literature and the other in information. When she is not reading or working on Sewer Lid she is the Deputy Editor of Open Shelf, an online professional magazine for the library and information services sector.
D.S. MAOLALAI has been nominated for Best of the Web and twice for the Pushcart Prize. His poetry has been released in two collections, Love is Breaking Plates in the Garden (Encircle Press, 2016) and Sad Havoc Among the Birds (Turas Press, 2019).
WILDA MORRIS is Workshop Chair of Poets and Patrons of Chicago and a past President of the Illinois State Poetry Society. Her poems have found homes in numerous anthologies, webzines, and print publications, including The Kerf, The Ocotillo Review, Pangolin Review, and Journal of Modern Poetry. She has won awards for formal and free verse and haiku. Her second poetry book, Pequod Poems: Gamming with Moby-Dick, was published in 2019. Her poetry blog at wildamorris.blogspot.com features a monthly poetry contest. She still likes to walk, even on windy days.
MARGARITA SERAFIMOVA: a finalist for the Erbacce Press Prize 2019 and 2018, Christopher Smart (Eyewear Publishing) Prize2019, Summer Literary Seminars 2018 and 2019, Hammond House Prize 2018, Red Wheelbarrow Prize 2018, and the Montreal Prize 2017. Her work has appeared in Agenda Poetry, London Grip, Waxwing, Trafika, A-Minor, Poetry South, Orbis, Nixes Mate, Minor Literatures, and Writing Disorder. Find her on Facebook.
HOWARD SKRILL is an artist and educator living in Brooklyn, New York. His pictorial essays have recently been published in Freezeray, ArtIs On, and Streetlight, and his art has appeared in numerous solo and group exhibitions. You can learn more on his blog howardskrill.blogspot.com.
SEAN STEELE, is a writer, musician, and educator raised on Vancouver Island and based in Toronto. His poetry has previously appeared in Sewer Lid. He performs with the rock band Zuffalo, whose debut album was released in 2018 (https://zuffalo.ca/music) and releases his own music as Mareotis, whose latest album was also released in 2018 (https://mareotis.bandcamp.com/album/admiral-nelson-mandala).